In what has become something of a tradition, more Inspiring Women Award winners have been recognised in the New Year's Honours List, the first from King Charles 111. 
Dee Drake, formerly known as, well Dee Drake, is now Dee Drake BEM.
The honour was awarded for her work with charities and disadvantaged children through The Toy Appeal. Dee said on hearing the news:
"I'm both shocked and absolutely thrilled to be awarded a BEM in the New Year's Honours List on behalf of The Toy Appeal. This amazing team effort saw over 10.700 toy sacks filled and distributed in this 10th year of The Appeal – all done with the generosity of our amazing supporters and volunteers"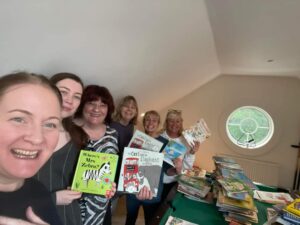 On this day last year (02/01/2022), we joined Dee at her home to commence the 2022 Appeal by sorting and cleaning books, this is a 12 month commitment for Dee and husband Chris and a much deserved honour.
11,000 in 11th year Dee?
 Justice campaigner Marie McCourt accepts her MBE on behalf of her Daughter's legacy. 
Marie McCourt – IWA Community Award Winner 2020/2021
In February 1988 her 22-year-old daughter, Helen, disappeared on her way home from work.  Her killer was convicted by a jury on overwhelming DNA evidence but never admitted his guilt or revealed the location Helen's remains.
As a result, Marie and supporters have campaigned tirelessly to prevent other families from facing the same horrifying fate. It took 5 years of campaigning to get 'Helen's Law' written into the statute books.
Helen's Law came into force on January 4 2021, too late to stop the release of the person convicted of Helen's murder.
A book about Marie and the campaign called 'Justice for Helen' co-written by freelance journalist Fiona Duffy was published in February 2021 – just days before the 33rd anniversary of Helen's disappearance.
IWA are thrilled Marie's work continues to be recognised with her MBE.
Dr Gee Walker says her MBE is Bittersweet.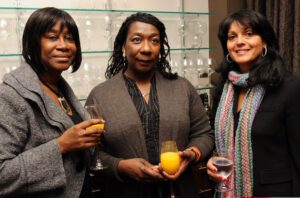 Dr Gee Walker (centre) – IWA Community Award Winner 2009
In 2009, we recognised Dr Gee Walker with these words:
A woman who, through personal tragedy, has become an amazing role model showing communities the power of forgiveness; honoured for her dedication to eliminating racial discrimination and providing encouragement for young people to achieve.
In the 2023 New Year's honours list, Gee was awarded an MBE for services to diversity and racial injustice for her work as founder and patron of The Anthony Walker Foundation. Continuing to inspire those in her local and wider community.
Full details of her award and interview for ITV Granada can be found here
"Whenever I am asked why the Inspiring Women Awards have continued for over 30 years, I always come back to stories like Gee's and why these remarkable women continue to inspire."