Claire Moore, co-founder of Certain Curtain Theatre and DV campaigner revisits her highs of 2008 and shares lows of 2022 with the loss of Vicky the Van.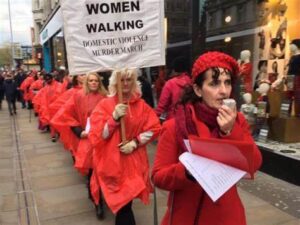 "I was thrilled to win the Arts category of the Inspiring Women Awards in 2008. As a small, non profit, using theatre to engage audiences in subjects like domestic abuse, it was a wonderful achievement to win this great award.
When you're talking about subjects as hidden as domestic violence and abuse not many people want to hear. But Jacqueline did and continues to recognise those of us who deal with difficult issues.
Danny Wallace was the awards host and I was sooooo thrilled I gave him a big hug on stage! (Ed: we think Danny was equally thrilled!)
Winning not only raised my profile but also the issues I am so passionate about. We celebrated 33 years this year and that's a BIG achievement- especially as we don't receive any revenue funding.
Since winning we have toured across the UK and as far afield as the Falkland Islands, performing for their first domestic abuse awareness campaign.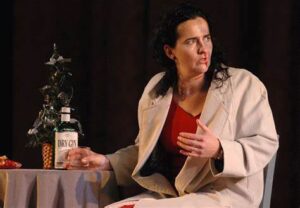 Covid was a tough year but I think 2022 is proving even tougher. I have been diagnosed with breast cancer and recently undergone two separate surgeries – which meant I could not drive, lift or perform. Thankfully, we have some digital versions of our work and I have been able to deliver those online.
I was hoping to return to the road as soon as possible after radiotherapy in the new year but sadly, our van 'Vicky' is broken beyond repair. The fuel injectors have fused with the engine and the cost to replace is more than she is worth.  With no revenue funding we rely on performance fees and donations so we simply cannot afford to replace Vicky."
The Inspiring Women Awards have been recognising women's achievements for over 30 years and where we can, we continue to support our inspiring award winners. If you are able to help Claire with support, donations or even a van – please visit the Certain Curtain website or donate here.