"I was the Community winner in 2017 and it remains one of the proudest moments of my life!" 
Dee Drake explains what winning the Community Award still means to her and why you should consider nominating your own inspiring women to benefit too.
"At the time the Toy Appeal was supporting around 2000 children each Christmas and was quite unknown, I attended the awards with two friends, and I never even considered I would win, especially when I listened to all the other people in my category and the remarkable things they were doing.
When my name was called out, I jumped up in shock, I felt like I had won an Oscar! I walked towards the stage and had a moment of doubt and had to stop someone and ask if they had really called my name!
Winning the Inspiring Women award really gave great visibility to the work that The Toy Appeal does, which in turn resulted in us getting more support and more volunteers, which meant we could support more children
It's no coincidence that within 18 months of me winning the award, The Toy Appeal had been able to double the number of children it supported!
The award lead to an article in Cheshire Life which further raised the profile of the Toy Appeal and Chris & I were invited to a Garden Party at Buckingham Palace, another highlight of my life that I will never forget!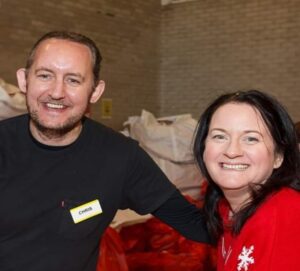 Since then, we have had lockdown and cost of living rises beyond anything any of us could imagine and it has meant more and more children need our support to have Father Christmas visit them.
We now support over 10,000 children every year and I couldn't be prouder! The Toy Appeal means so much to me, it's my "baby" but it means so much more to the family and children it supports each year
and I have made a friend for life in the founder of the Inspiring Women Awards, Jacqueline Hughes-Lundy, the work she does with the IWA has given a platform to so many amazing women and causes that she deserves a medal!
Thank you Jacqueline for helping our charity grow and helping us support more and more children every year!"
Find out more about The Toy Appeal and how you can be involved.