Do you know an inspiring woman who deserves to be honoured? I know you do… 
The Inspiring Women Awards enter their 31st year in 2023 and Cheshire Life and our sister magazine Lancashire Life have been proud to support the event for two decades.
The North West and North Wales seem to produce phenomenal females like no other region: from business leaders and entrepreneurs to fundraisers and community champions; from all walks of life, and of all ages and the new Women Making Waves category opens these awards to a global audience.
Every month in Cheshire life and Lancashire Life magazines we honour and report on women making a difference. There is never a shortage, and the Inspiring Women Awards is a source of amazing stories of tenacity and innovation, kindness and courage.
It's now time to nominate for next year's event, which will be held on Friday, May 19, and which is a showcase of brilliance, as well as being a great lunch and celebration – a chance to meet old friends, and make new friends, to laugh and shed a few tears, and to be in a room where positivity and pride flow freely.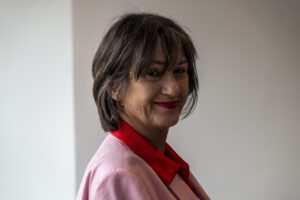 Cheshire Life Editor, Joanne Goodwin
Over the years, the Inspiring Women Awards, created and run with endless enthusiasm and passion by the indomitable Jacqueline Hughes-Lundy, have recognised an astonishing roll call of females, many of whom have gone on to make their mark on a national and international level. And as each new event comes along, a diverse collection of women are paid back for their achievements and their contribution to society in the North West, North Wales and beyond.
Please nominate now at https://www.inspiringawards.co.uk/, and support the lunch – it is truly a day to remember
You can read about the Inspiring Women Awards in Cheshire Life and Lancashire Life at  https://www.greatbritishlife.co.uk/people/nominate-an-inspiring-woman-9359152