In 2023, we celebrated the 31st Anniversary of the Inspiring Women Awards. Over those years we have recognised 100's of women, giving them a public platform to celebrate those achievements and, in many cases, do even more. The Awards have evolved over the years by introducing new categories and themes, but the heart of the Awards has always stayed the same – giving women a voice. The Inspiring Women Awards will continue to do just that, with public nominations helping us find these extraordinary women and celebrate their achievements
The 32nd Inspiring Women Awards Lunch takes place on Friday 17th May 2024. Drinks reception 12.00-12.30 with Lunch commencing 12.30 until 17.00. And don't rush away as we have IWA inspired Coctails and entertainment from 17.00-19.00. We promise it will an afternoon well spent.
About the Inspiring Women Awards 2024 event
"I have to say in all the events I have attended yours was truly the most moving and inspiring experience. Thank you for a wonderful day. With the right people around you, anything is possible – dream big 👠❤️ Can't wait for the next one xxx" 
Gaynor won't be the only one excited about attending the 2024 Inspiring Women Awards as we have teamed up with the doyenne of the celebratory party, Liz Taylor from Taylor Lynn Corporation.
So what can you expect from the 2024 Awards Lunch? 
   Entertainment that begins in the drinks reception and ends at the after party, guest award announcers, Liz Taylor sharing the gossip on those celebrity weddings and parties (Prince William singing with Taylor Swift anyone?) and of course the heart of the day, listening to the inspiring stories from the 2024 Finalists before the winners are announced.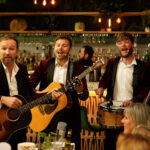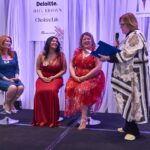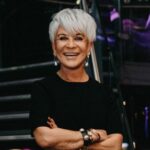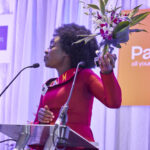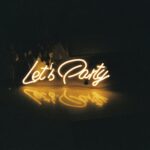 Stay tuned for more announcements
The 2024 categories are:
Community
Recognising those women whose contribution to society make a substantial difference to the lives of others.
Entrepreneur
Recognising those women who take that leap of faith and develop businesses which benefit the economy.
(This Award is open to newly established businesses )
Inspiring Young Woman
Recognising those young women whose examples serve to inspire our next generation.
(This Award is only open to those aged between 16–25 year olds)
Here Come the Girls
Recognising those women or organisations who are challenging systems that don't work for women, promoting gender informed products, services or role models.
Sustainable Award for Women Making an Impact
Recognising those women who are making a a positive impact on all our lives. Whether it's environmental, digital, educational transformation or through the circular economy or supply chain transparency. The list is not exhaustive.
Women Making Waves
This is a global award aimed at recognising the work of women worldwide. Their work may be involved in community, sustainability, education, business models or acting as role models to our girls and young women.
The 2024 Inspiring Women Awards Lunch
Where: 
The Lowry Hotel, Salford, (Manchester) UK
When: 
17th May 2024
Click below to book your corporate packages or individual tickets.
"Absolutely delighted that we are once again supporting the Inspiring Women Awards. We are very proud of our relationship with Jacqueline. There are quite a lot of strong links between what we are trying to do as a Business School and The Inspiring Women Awards."
Professor Chris Pyke, Lancashire School of Business and Enterprise.