A shout out to those who love an opportunity to dress up 
We all know that person who needs no excuse to don fancy dress, like Karen Campbell-Williams below, who jumped at the chance to release her inner Lady Featherington and those, like me, who avoid it at all costs.
That all changed in 2022 when I was invited to the fabulous Maggie's Ball at The Lowry Hotel and found myself having to ditch the Bah Humbug attitude and dress up.
The Hire department of the Royal Exchange Theatre provided a selection of outfits, some authentically of the period, others, like mine, less so. I ended up sporting an outfit befitting my Welsh roots – a sort of medieval red queen creation topped off with a (Claire's Accessory) Tiara.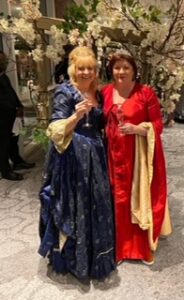 I loved the dress so much I was tempted to keep it an extra week and don it for anything from shopping to dining out – I didn't of course. Your opportunity to raid the dressing up box and support a great charity happens on 25/03/2023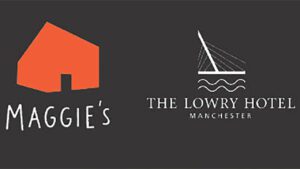 Inspired by a similar event that took place in 1828, when prominent citizens of the North West gathered for an elaborate costume ball that raised money for local charities. The Maggie's Centre and Lowry Hotel join forces each year to  recreate Manchester's historical tradition of community philanthropists.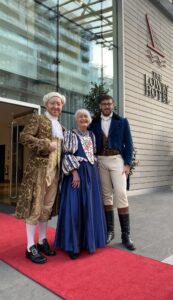 Maggie's Ball organiser Carolyn Mellor with Andrew Mellor & Daniel Finn
This year's Maggie's Ball takes place on 25/03/2023. Tickets are £99 per person and this is what you get in addition to the chance to release your inner Bridgerton or your inner Queen.
A welcome drinks reception, exciting entertainment, three course dinner and a  DJ that will bring even the most reluctant dancer to the floor.
The raffle and auction of tremendous 'money can't buy' prizes (except that you can for one night only!)
You can reserve a place or table by contacting:
The Lowry Hotel specialevents@thelowryhotel.com
or
Maggies Manchester ruth.tobi@maggies.org
Dress Code: Historic & glamorous, Bridgerton-style period costumes, information on where to get your costume will be sent with your tickets