Continuing our series of pen portraits of our 2020/2021 finalists, this week we introduce you to:
Sarwat Jaleel.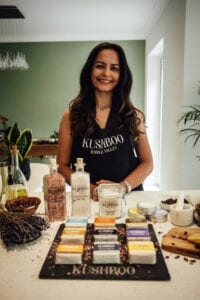 It was an extended hospital stay and a small bar of soap that was the catalyst for Sarwat Jaleel to set up her business: Kushboo. 
Fed up of being away from the family the soap, brought in by her husband, Richard, gave her an instant boost.  The little gift from home helped Sarwat to see she could not only help her own recovery but also help others by making the very best soap she could specifically for a local homeless charity.
Kushboo products are stocked in 100's of shops in the UK and abroad and for every bar Sarwat sells she gives one to charity. Business advisers have told her she'll never be successful doing this but the gifting is central to her business and personal ethics.
When Covid hit and all her trade shows were cancelled she immediately donated the soaps she had ready for her shows to the frontline NHS staff at the local hospital who were unable to go home between shifts.
Sarwat firmly believes soap is a form of dignity and a commodity that should be available to every single person despite their background or circumstances.  She was once approached by a former homeless young man who told her that a charity had given him a bar of Kushboo soap and it gave him confidence to go for a job interview.  He said the soap smelled like his grandma and made him feel like someone cared
This remarkable woman will be sharing her thoughts and experiences with the us on 14th May 2021 at the Inspiring Women Awards lunch.
To book your 'front row seat' at this event and be present whilst these inspiring women share their stories, visit book online.