'You've got to have some adventure in your life.' 
 Our guest speaker for the 31st annual Inspiring Women Awards is 59 year old Viv Barclay, who is attempting to set a world record as the oldest solo woman to row the Atlantic. Oh and lets add that she is not a rower…..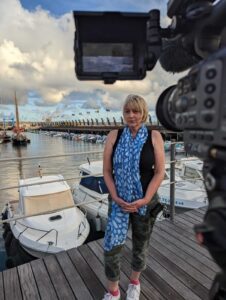 Here is a little of her story, that she will be sharing at the Inspiring Women Awards Lunch on 19th May 2023.
"Around 2016, I watched The Yorkshire Rows, 4 ladies in their 40's and 50's, compete in the Atlantic Challenge and was utterly inspired by them.
At this point in my life, I had become less than I wanted for myself. It was a combination of school run, working and caring for elderly parents with little focus on my own desires. I had been helping my dad to care for my mother, who had Alzheimer's, until her death in 2017.
At that time, menopause was really in full swing and I retreated into myself and stopped engaging with the world.
Since then, I've been 'staying small' and going largely unnoticed running my little beeswax wraps business at the same time as continuing to care for my now 92-year-old father.
With my daughter going to Uni, I knew I had a choice to make.
Was I going to sit on the sofa, with a glass of red watching Netflix for the rest of my life (fine for those who want to, I'm not knocking it) or am I going to actually DO something?
I knew I wanted more for myself than the sofa, an adventure that really pushed me and so, with no rowing experience, I signed up for the 2023 Atlantic Challenge, inspired by those Yorkshire Rows back in 2016.
I'm not from a sailing or rowing background, however, many participants are as inexperienced as me and train specifically for this adventure.
The race rules stipulate mandatory training in navigation, sea survival and first aid and I have to complete a minimum number of hours of training rows beforehand. On the start line there will be inspections and I will have to know what everything is for, how it works and how to fix it should an issue occur otherwise I won't be allowed to begin the challenge. Their main priority is safety and they take it extremely seriously.
Am I mad?
I don't think there is anything mad in wanting to push boundaries, break glass ceilings, see what we are capable of and help, support and inspire others at the same time.
Am I putting my life at risk?
Yes, but it's a calculated risk and I'm going into this with my eyes wide open. If it encourages other women to take the plunge and do something that they find fulfilling, that would be amazing.
Fewer than 1700 people have rowed the Atlantic and I'll be the 27th solo woman. At 59, I'll also be the oldest in history.
There's a long way to go to the start and I'm being supported by the Sports Science Dept of the University of Salford. They'll be helping to prepare a middle-aged woman mentally, physically and nutritionally for the challenge ahead and I can't wait.
When I told my dad about the challenge, I was nervous as I thought he'd be negative about it. A needless worry as he's turned out to be one of my biggest supporters. He said, 'You've got to have some adventure in your life.' I wholeheartedly agree."
Viv will be sailing under the campaign name mumentous and her fundraising page can be found here. 
Booking information for the IWA lunch can be found here.