Following in the footsteps of Oscar winner, Olivia Coleman and Dame Cressida Dick is Louisa Blake, one of our three 2023 Community Award finalists.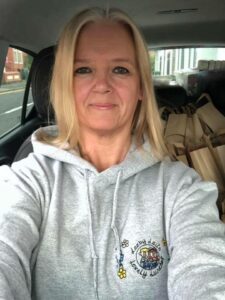 Louisa Blake has been an early year schoolteacher on the Wirral for over 29 years and is presently the Assistant Head at Heygarth Primary School.
Around 2015, she recognised that as the school holidays approached quite a few of her pupils demonstrated significant mood changes and all shared a common factor – they all had free school meals.
On further investigation, she found that during the holidays their parents were struggling to feed their families and these children were going hungry. A problem that Marcus Rashford would be campaigning to solve five years later.
She decided to tackle the problem head on and when the summer holidays came around, decided to help 50 families by establishing Looby Lou's Lovely Lunches.  
As a child, Louisa was herself, a beneficiary of food donations from the Salvation Army and believes that Looby Lou's is her way of paying that kindness forward.
She set up a Facebook page, asking people to help by making donations of food, making sandwiches, donating money or helping to deliver the lunches.
From those first families, Looby Lou's now delivers free lunches to disadvantaged children across the Wirral during non-term time.
On average, she now makes approximately 250 pack lunches a day throughout the main school holidays, the majority of which are delivered by Louisa herself.
In 2020, Louisa was recognised as the Alumna of the Year, by the Girls School Day Trust (GDST), previously awarded to Oscar Winner, Olivia Coleman (2019) and Dame Cressida Dick (2018).
Louisa will be sharing her story with us at the Inspiring Women Awards lunch on 19th May 2023. For more details of the IWA lunch visit here.