2023 Entrepreneur Category Finalists 
Heather Glover & Kate Maurice
Skarlette was founded by friends Heather Glover & Kate Maurice in 2021 when Heather a nurse and two-time breast cancer survivor, and Kate a retired pilot and passionate seamstress, noticed a lack of flat chested lingerie. Through their supportive friendship and determination, they created a unique bra that empowers flat-chested women and cancer survivors across the world.
In Heather's words….
"I am a nurse, and have been for over 30 years. In my mid 40s I was diagnosed with an aggressive form of breast cancer. After treatment, it returned within months.
I became involved with the Prevent Breast Cancer charity as I strongly believe in their purpose. Due to my fundraising and awareness raising and commitment since 2019, I have been given the role of Ambassador.
"Having lost both of my breasts to cancer and having endured 3 years of treatment and surgeries, I decided to remain flat chested. Through my disappointment in the lack of beautiful lingerie for flat chested women, I designed my own with my friend Kate, who is a passionate seamstress."
Kate had been a commercial pilot but had left that job in order to care for her son who has Duchenne Muscular Dystrophy – I'd met Kate when he was just 6 and I was his clinical research nurse when he was taking part in a clinical study. He's now at university and doing incredibly well.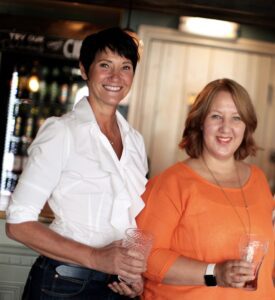 We launched Skarlette with just two designs. We very quickly gained customers from around the globe and in 2022 we were able to grow our business and extend our product range to include two more designs and 5 colourways. In the spring of 2023, we are launching our first swimwear which will be welcomed greatly by our customers.
Aside from the products we sell, we have our website and social media platforms for support, information and inspiration. We share messages to increase our followers' knowledge, from the PBC charity, we provide body positivity messaging and encourage acceptance to increase confidence. We have many followers who contact us directly and open their hearts and I am always quick to reply and offer any words of encouragement and support that I can – as I have been there.
"Collaboration with companies / charities who share our values is very important to us and I strongly believe that together we are all stronger for the community we serve."
Our manufacturing is expensive but it is something that we are very proud of, as we continue to have our products made in the UK, just a few miles away from our studio, in Stockport. Women have been enabled to return to work as seamstresses, working from home, working around family commitments, working as lingerie seamstresses (which are all too often lost to foreign parts of the world)."
Heather & Kate will be sharing their story at the Inspiring Women Awards Lunch on 19th May 2023, where the winners will be announced. Event details can be found here and booking info here.