Continuing our series of pen portraits of the 2022 finalists, this week we introduce you to:
Lance Corporal Natasha Day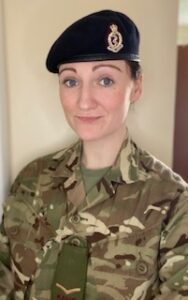 "Things are changing for women in the Armed Forces, and there is no longer a requirement to sacrifice the breastfeeding journey in order to have a successful career."
Lance Corporal, Natasha Day, set up the Defence Breastfeeding Network after returning to work when her son was six months old and struggling to find any policy or support on how she could continue to breastfeed.
Described as a woman who challenges the norm, 18 months on the Network works across the Army, Royal Navy and Royal Airforce. The first network of its kind, it aims to support service families to breastfeed and now has 800 military families involved.
The network is helping to normalise breastfeeding and enable women to reach out and seek support. This network is also open to civilian partners of service personnel and supports people all around the UK and some stations overseas.
Peer supporter training for the network is provided by Families and Babies Lancashire, which offers a formal qualification so they can support others. Natasha has opened breastfeeding rooms within military establishments and actively campaigns to improve the armed forces for women.
The Network also provides guidance on health issues, maternity leave, returning to work and how to overcome barriers in the workplace. It also advocates for equality in the workplace for breastfeeding mothers to ensure they don't fall behind on promotions, deployments and courses and offers guidance for the chain of command on how to maximise the potential of breastfeeding servicewomen.