Continuing our series of pen portraits of the 2022 finalists, this week we introduce you to:
Lou Cordwell OBE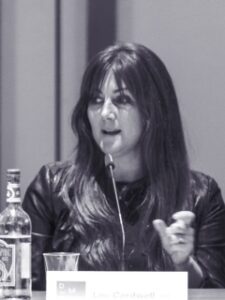 "We want to be judged by the work, not turnover. Are we a profitable business? Yes. Have we got a body of work that we're proud of? Yes. Mission accomplished."
If there's one inanimate object that deserves more recognition it has to be the kitchen table.  Just think of all the dreaming and planning that's been done around kitchen tables which have led to the creation successful businesses being created.   Just one of them is Magnetic North.
Lou Cordwell will tell you it wasn't all plain sailing but she was determined to make it work.  Within Magnetic North's first year there were 10 staff and briefs from the likes of Kellogg's, Coca Cola and Channel 4.  For a very young agency working out of a Portakabin-style office in Canada House, the global brands came thick and fast.
Projects for Diesel and Radio 1 Extra followed, the latter beginning a relationship with the BBC that continues to this day, with recent work for Radio 4's Desert Island Discs, BBC Sport, Radio 2 and CBeebies.
"What I believe is that if you focus on doing great things for the right reasons with great people, commercial success follows."  As well as the digital establishment, Lou Cordwell is increasingly becoming part of Manchester's.
A board member on Greater Manchester's Local Enterprise Partnership, she's also chair of Future Everything and is on the board of CityCo.