Continuing our series of pen portraits of the 2022 finalists, this week we introduce you to:
Ema Wilkes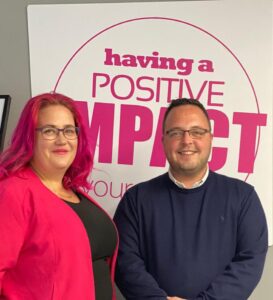 Food poverty may not be anything new, but the rising number of struggling families and Marcus Rashford's successful campaign has made it one of the dominant issues of the past few years.
One woman who decided to do something about it is Ema Wilkes, who, in 2013 as a young Mum in her twenties with three small children, sold her car to fund a project to provide nourishing meals to families in a safe environment.
Recognising the power of using surplus food otherwise bound for landfill to feed people in food poverty, Ema began knocking on the doors of supermarkets and food providers, long before this became a recognised practice.
Her persistence paid off, and the NEO Community began supporting both environmental needs as well as helping to address food poverty. The aim of NEO Community is to build resilient communities, raise aspirations, facilitate change and reduce food insecurity on the Wirral.
Ema now manages 5 social supermarkets, a thriving youth club and kids club, a warehouse and distribution network, a Community Café, a community centre covering wellbeing, bingo and everything else the community needs.
All run with a small team of staff (6) and a growing core of volunteers.  NEO was awarded charity status in 2019 and in 2021 was awarded a Queens Award for Voluntary Service – the highest honour a voluntary group can receive.
Ema pioneered food support and access across the region and there are now a network of over 50 supermarkets, pantries and other food giving processes that have been established largely due to the lobbying, hard work and determination of Ema.
A founding member of The Feeding Britain Movement, Ema is also a trustee of Feeding Birkenhead Supporting Wirral, a trustee of Community Action Wirral (Wirral's CVS), a school governor and a proud mum of 3 children aged 6-11