Continuing our series of pen portraits of our 2020/2021 finalists, this week we introduce you to:
Detective Chief Inspector Allison Woods.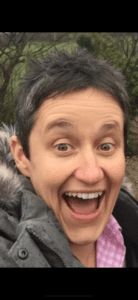 Allison has been breaking down barriers and smashing glass ceilings since she first joined Merseyside Police in 1997. 
Within a few years, she joined the Operational Support Division (OSD). The OSD were responsible for planning and responding to disorder, reducing priority crime and providing specialist method of entry and search tactics. Traditionally a male bastion.
In 2005, Allison moved to the Force Dedicated Surveillance Unit and very quickly became an accomplished surveillance operative operating covertly within hostile areas and against the most violent Liverpool Organised Crime Groups.
In 2009, Allison was promoted to the rank of Sergeant in the Force Firearms Unit which was a department with a historical gender imbalance. Allison continued to demonstrate how effective female officers are in specialist roles by leading by example. Allison broke down barriers by becoming the first female Merseyside Police officer to gain National Firearms Tactical Advisor Accreditation.
In 2015, Allison was promoted to Detective Inspector where, as Senior Investigating Officer, she successfully led several high profile cases including domestic homicides, modern day slavery investigations and human trafficking matters. Her leadership of these cases led to successful outcomes at court.
In 2019, Allison became one of the Force's first female Detective Chief Inspectors within the SOC Wing.
Throughout her career, Allison has devoted her own time to mentoring female police officers and women in hard to reach communities. She is a also a key mentor on 'The Girls Network'.
This remarkable woman will be sharing her experiences and ambitions with the us on 14th May 2021 at the Inspiring Women Awards lunch.
To book your 'front row seat' at this event and be present whilst these inspiring women share their stories, visit book online.