Continuing our series of pen portraits of our 2020/2021 finalists, this week we introduce you to:
Emma Buckley.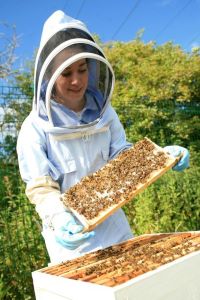 Albert Einstein once said, "If the bee disappears from the surface of the earth, man would have no more than four years to live." 
It's a warning which resonates with Emma Buckley.
Emma spent her formative years watching her Dad carefully look after his beehives.  He'd been doing it for more than 50 years but as a teenager she didn't see how bees would become part of her life too.  Instead she went to Reaseheath College to study sport.  But that wasn't for her, so she turned towards a career in agriculture – more specifically, owning her own business.  But what?
On a trip to New Zealand Emma witnessed how different their beekeeping methods were to that of the UK.  The honey side of the business has always been a part of Emma's life, but she wanted to take it to the next level to educate people about bees and how important they are to human life.
Naming her business 'Buckley's Bees' not only does Emma accommodates dozens of bee colonies, but she also aims to teach people about bees and their importance.  Emma encourages people to get up close and personal with more than 2,000 bees in an observational hive, giving people a rare chance to see how bees behave in a hive environment.
As well as selling its honey and running beekeeping courses, Emma also offers businesses the opportunity to rent managed beehives on-site at their headquarters, with their own dedicated beekeeper on hand to encourage staff involvement.
This remarkable woman will be sharing her experiences and ambitions with the us on 14th May 2021 at the Inspiring Women Awards lunch.
To book your 'front row seat' at this event and be present whilst these inspiring women share their stories, visit book online.