Continuing our series of pen portraits of our 2020/2021 finalists, this week we introduce you to:
Jade Kilduff.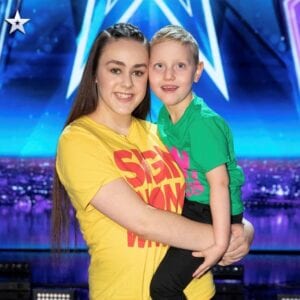 Jade is an extraordinary young woman with a huge heart. 
When Jade was 17, she started a movement called Sign Along with Us with the ambition to teach the world sign language.  Jade isn't deaf.  She taught herself sign language when she was just 14 so that her little brother, Christian, who has complex disabilities wouldn't grow up isolated and unable to interact with the world around him.
This is in spite of professional advice which suggested that he might never be able to communicate.  But Jade doesn't take no for an answer and signed for Christian for 2 years before he eventually signed back.
Now Christian can sign more than 100 words thanks to Jade using music as a way of teaching sign almost by stealth.  Seeing how music has helped Christian spurred Jade on to start Sign Along with Us – a choir with acceptance and inclusion at its heart.
Their audition on Britain's Got Talent where they performed 'This is Me' rightly earned them the golden buzzer and although runners up in the 2020 final Jade and the choir won the hearts of the country.
Jade continues to campaign for signing to be taught in all schools, alongside being a student, a sister and foster sister, raising funds for Rainbow House, having part time jobs and even running a Brownie pack!  Jade is an inspiration.
This remarkable young woman will be sharing her experiences and ambitions with the us on 14th May 2021 at the Inspiring Women Awards lunch.
To book your 'front row seat' at this event and be present whilst these inspiring women share their stories, visit book online.