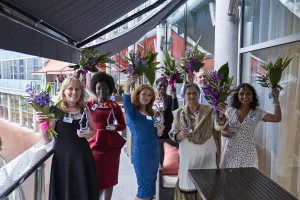 Over the past 31 years, the Inspiring Women Awards lunch has become known for giving a platform to the finalists to share their stories in their own words. Guests always comment that they don't know how we find these remarkable women year on year, but are glad we do and so are we.
The Awards exist to share these stories and shine a light on these inspiring women and 2023 was another good year for doing just that.
Over the lunch, 16 women inspired guests with stories of bravery, fortitude, vision and a commitment to providing a brighter future for our children and young women. Where there tears and laughter? absolutely! along with celebrations as guests left inspired and finalists and winners left wanting to do more.
"I have to say in all the events I have attended yours was truly the most moving and inspiring experience. Thank you for a wonderful day. With the right people around you, anything is possible – dream big  Can't wait for the next one xxx"  Gaynor Thomasson, 2023 Sustainable Impact award winner.
Profiles of our winners can be found here and for the Inspiring Young Woman winner, here
Videos of the 31st Inspiring Women Award lunch can be found here.
Nominations are now open for the 2024 Awards. It could be you or a woman you know, so don't be shy – either or both of you might just be appearing at our 2024 awards!