The woman who turns camels, rickshaws, bicycles, motor-bikes, pick-up vans, and yaks into mobile libraries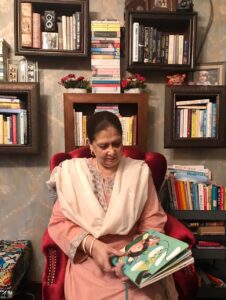 Women Making Waves Award Finalist – Basarat Kazim
Pakistan is one of the lowest-performing countries in the Southeast Asian region in terms of access to primary education, its quality, and learning outcomes.
According to UNESCO Pakistan has the world's second-highest number of out-of-school children (OOSC) with an estimated 22.8 million children aged 5-16 not attending school, representing 44 percent of the total population in this age group. 
One woman who has been at the forefront of tackling these problems is Basarat M. Kazim, who has been has been bringing meaningful education and literacy initiatives to vulnerable communities in Pakistan for over 40 years.
All of this is done through the Alif Laila Book Bus Society (ALBBS), which transforms spaces like parks, community centres, public spaces and classrooms into learning spaces.
The prime focus of her projects & activities is to give these marginalized children, especially young girls, access to books, games, toys, ECE learning material and creative tools to harness their true potential.
Basarat and her team launched a massive mobile libraries campaign post covid in August 2020, because she felt the children of Pakistan needed some joy and hope. Basarat realised that more than ever, children needed books to combat the trauma and uncertainty the virus had brought into their lives.
A published Childrens' story author, Basarat has over a dozen titles under her name.
As an author, this love of storytelling continues to drive her to introduce these marginalised children to the world of reading and led to these innovative mobile libraries allowing for flexibility of place and time, where trained staff conduct sessions in mother tongue and indigenous provincial languages.
Since 2020, 1017 box libraries have been distributed and 17 unique mobile libraries in the form of camels, rickshaws, bicycles, motor-bikes, pick-up vans, and yaks running in the most difficult terrains and urban slums of the country.
This initiative has covered over 50 districts & benefited over 160,000 children.
Another unique intervention is the first mobile maker space in Pakistan –  "Projects on the Go" With the motto: take the joy of learning to children, this project is designed to bring the "wow" of science and technology to government schools for girls.
This bus carries the message "Yes, You Can", encouraging young girls to explore, invent, and create. It teaches photography, arts, and crafts, electronics, kitchen gardening, and digital literacy.
Recently, they have started tent schools to accommodate the children who lost everything during the floods in 2022.
Their team, led by Basarat, have worked with many national and international organizations like UNICEF, Save the Children, USAID, UNESCO, Open Society Foundations, and local provincial governments to establish literacy programmes.
Basarat will be sharing her remarkable achievements at the Inspiring Women Awards lunch 19/05/2023.