Inspiring Women Awards & Hall Brown Family Law
Hall Brown are proud to sponsor and support the Inspiring Women Awards (IWA) 2022 once again.
Hall Brown launched their family law business back in 2016, choosing to set up base in the heart of Manchester. Co-founders Sam Hall and James Brown wanted to do things differently and become known as the best family law provider in the North West, and in time the UK. They have since been declared as "Simply the best in the North West" by Legal 500, 'Best Law Firms 2022' by the Times and 'The UK's No.1 Best Small Company to work for' by Best Companies Q1 2022.
Similarly to the Inspiring Women Awards, supporting women in business and the wider community is really important to Hall Brown.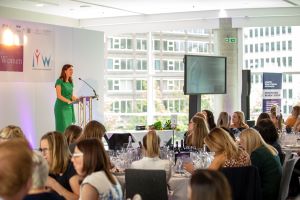 Claire Reid, Partner at Hall Brown Family Law said: "The Inspiring Women Awards have promoted the achievements of hundreds of women who live or work in the North West and North Wales for 30 years now. At the heart of what they do, is this desire to continue finding and sharing the stories of these inspirational women, which is something we're incredibly passionate about at Hall Brown, having built a team of highly successful, inspirational and remarkable women in the company ourselves.
"We have worked with Jacqueline and sponsored IWA since 2019, when Hall Brown was relatively new to the market. Since then we have flourished into a UK-wide business with offices in Manchester, London, Sheffield and Leeds, and have been delighted to witness the achievements of so many incredible women celebrated through the awards.
"Our sponsorship of the Inspiring Young Woman (aged 16-25yr) category seems a perfect fit, as we employ a number of young women, who too are achieving great things."
Hall Brown's work extends to all aspects of family law including, divorce and civil partnership dissolutions, financial settlements, issues relating to children, unmarried couples and cohabitation issues, pre-nuptial and post-nuptial agreements, prioritisation of children's well-being and domestic abuse cases.
Hall Brown also offer a family mediation service, which is an effective method of dispute resolution, allowing the client to retain control of the situation and resolve issues in an amicable and cost effective manner.
Hall Brown Family Law – Providing award-winning, specialist family law advice.