Founder and CEO of the NEO Community, Ema Wilkes,  reflects on what receiving the 2022 Inspiring Women Community Award means to her
I was so overwhelmed to have been nominated for this award for my work with the NEO Community and to be able to be joined by some of my best friends and team to attend the awards. First up being interviewed by the equally fabulous Michelle Daniel, who made us all feel so at ease and comfortable to sit on a stage in front of so many people, I had the privilege to be joined by Sally Carr MBE and Dr Omon Imohi both who have achieved the most incredible work and I was so shocked to then hear my name being called out as the winner of the Community Award.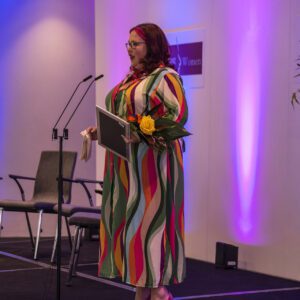 We really enjoyed listening to so many remarkable women from across so many sectors talk with such passion and knowledge and knowing that I was considered to be as inspiring as them.
The 30th anniversary of the Inspiring Women Awards was such a wide reaching platform to stand proudly from to talk about the local and national issues surrounding food insecurity, food waste and community lead change.
Since winning we've been given such a great platform to be able to network, understand and get to know so many more amazing community organisations from across the North West.
 "If you have the chance to nominate someone for these awards and/or attend – do it! We enjoyed every moment of this special event. We made some great contacts and couldn't believe the support and warmth we got from the audience. It was an amazing platform to shine from and reaffirmed our belief in what a positive impact we are making in our community." 
The Neo Community is a food focused charity based in heart of Rock Ferry, Wirral. We have been running for 10 years, we operate everything on a Pay as You Feel concept, allowing anyone to use and access all of our services paying in time, skills or money, leaving no one without the ability to be included in everything we offer.
There is always something to do at Neo! We always have so many events planned for the year, from supporting school's sports days to running community fun days in parks and local neighbourhoods. We have lots of ways to volunteer with Neo, from washing the pots to driving the vans across the length and breadth of Wirral!
We love to work with businesses wo like to build on their CSR commitments by allowing their teams to volunteer a couple of days a year, fundraising in their office for our charity or even curating weeks of action for them to attend and get to know us more! The kettles always on and we love to talk about what we can do to benefit the community.
      EMA WILKES | CEO | NEO Community |www.neocommunity.org.uk